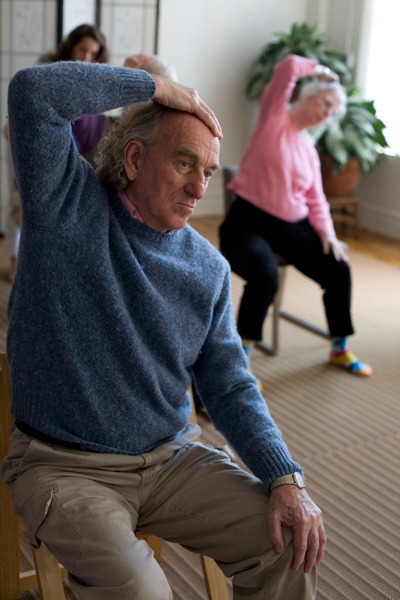 Awareness Through Movement lessons
In group Awareness Through Movement® (ATM) lessons, the Feldenkrais practitioner verbally leads you through a sequence of movements in basic positions: sitting or lying on the floor, standing or sitting on a chair. These precisely structured movement explorations involve thinking, sensing, feeling, moving, and imagining. By increasing awareness, you will learn to notice habitual patterns of movement and develop new alternatives, resulting in improved flexibility and coordination.
Many lessons are based on developmental movements and ordinary functional activities (reaching, standing, lying to sitting, looking behind yourself, etc.). Some are based on more abstract explorations of joint, muscle, and postural relationships. There are hundreds of ATM lessons, varying in difficulty and complexity, for all levels of movement ability. A lesson generally lasts from 30 to 60 minutes.
" Life is a process. Improve the quality of the process and you improve the quality of life itself. "
- Moshe Feldenkrais D.Sc.
Weekly Classes are now offered Online via Zoom
Tuesday at 12 pm - Chair Awareness Through Movement®
                                         Never underestimate the power of chair lessons. Challenging for the advanced student; yet also friendly for those who are not comfortable lying on the floor; and convenient for those whose computers are located in their kitchens (true story).
Thursday at 5 pm - For Experienced Students
This class tends to be more active... often with a "Surprise!" (just sayin'). Did you know you could do THAT?
Friday at 10 am - For Beginners
Then again, aren't we all beginners? Slower and gentler with "all time favorites" lessons, just because they are so good and fun!
Saturday at 10 am - For Everybody
As long as you are alive and curious, any lesson is your lesson, as you might have already known.
For more information
To register for classes, please email me to receive the links.